Aims and Scope
Mahsa Jalili, Nastaran Ansari, Somaye Bakhtiari, Farid Azizi Jalilian
---
Today, we are facing the spread of antibiotic resistance in various microbial communities. Also, researchers are using new methods to replace conventional treatments to prevent chronic bacterial infections. Hence, the used of phages or bacterial contaminant particles are now used as an effective method in the treatment of many infectious diseases. Several studies have suggested that the use of bacteriophages is effective in treating some bacterial diseases. Therefore, the present study was performed to evaluate phage therapy studies against infections caused by bacterial infections. The use of bacteriophages as new targets in the treatment of bacterial diseases restricts the development of infectious diseases. Bacteriophages can provide a new perspective in the development of new drugs to reduce the rate of bacterial infections. Also, it seems more research should be done in this field and more developed techniques should be used to evaluation of new phages.
---
December 23, 2021
Katarzyna Rygiel
---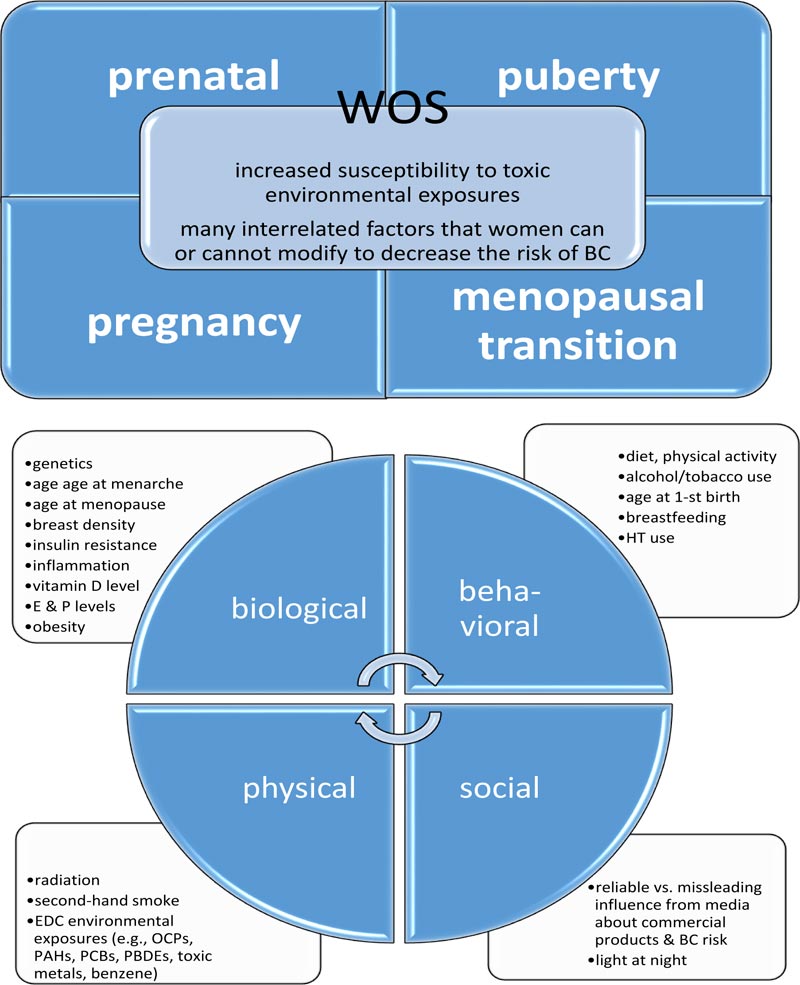 Introduction:
It has been observed that many toxic environmental agents increase risk, accelerate development, or deteriorate the course of breast cancer (BC). In particular, endocrine-disrupting chemicals (EDC) are harmful to endocrine receptor actions and signaling in the breast tissue.
Usually, there is a long interval of time between the exposure to EDC and BC incidence, and this often represents a serious obstacle for effective BC prophylaxis. Notably, during certain periods of a woman's life cycle, the BC risk is particularly elevated due to increased susceptibility to some EDC. These windows of susceptibility (WOS) include prenatal, puberty, pregnancy, and menopausal transition stages of a female's life course.
Four WOS have been considered as the most vulnerable periods for BC since the mammary gland undergoes the main anatomical and physiological transformations at those intervals. This means that during specific WOS, the EDC from the environment can have the most dangerous impact on BC risk and possible BC development later in a woman's life. However, most clinical BC studies related to toxic environmental exposures have not been connected to the specific WOS.
Therefore, the goal of this article is to briefly describe some important research results, focused on the links between EDC and BC, within four critical WOS. In addition, this mini-review outlines some useful biomarkers for further research and prophylaxis of BC and also for both the research community and the medical professionals.
Conclusion:
To bridge the gap in BC prevention, it is essential to recognize the links between EDC and BC within the critical WOS. Moreover, an integrative model of BC research, applying intermediate biomarkers, is necessary to determine the mechanisms of action of various EDC during critical periods in a woman's lifespan. Hopefully, this will lead to progress in BC prevention.
---
June 10, 2021