Aims and Scope
Rehab Badawi, Mohamed Zakaria Abu Rahma, Haidi K. Ramadan, Shaimaa Soliman, Dina A. Mohareb, Nehad Hawash, Rania Elkafoury, Sherief Abd-Elsalam
---
Background
Liver cirrhosis is a diffuse process in which the anatomical structure and function of the liver are disturbed. Lipid metabolism occurs mainly in the hepatocytes. In liver cirrhosis, it is expected to detect abnormal lipid profile and abnormal neutrophil to lymphocyte ratio due to necro-inflammation and hepatocyte dysfunction. This study aimed to estimate the lipid profile in patients with liver cirrhosis and to assess its relation to the severity of the liver disease based on Child-Pugh Turcotte score and Neutrophil to Lymphocyte Ratio (NLR).
Methods:
This study included 500 cirrhotic patients. All patients are subjected to history taking, clinical examination, liver and renal function tests, lipid profile, and also abdomino-pelvic ultrasound. Child -Pugh score, fibrosis-4 score (FIB4), and neutrophil and platelet lymphocyte ratio were calculated.
Results:
A total of 500 patients were enrolled in this study; 12 patients were excluded (two patients were on the immunosuppressive drug, three patients had body mass index (BMI) >30, and seven patients took lipid-lowering drugs). Cholesterol level was significantly higher in patients with Child- Score A than B and C. Cholesterol, Low-Density Lipoprotein (LDL), and very-low-density lipoprotein (VLDL) cholesterol were significantly higher in Child B than C. A significant negative correlation was found between cholesterol level and each of FIB4 and NLR ratios.
Conclusion:
There was a significant negative correlation between the severity of liver cirrhosis and lipid profiles (except triglyceride), FIB4 and NLR ratio.
---
November 17, 2021
Katarzyna Rygiel
---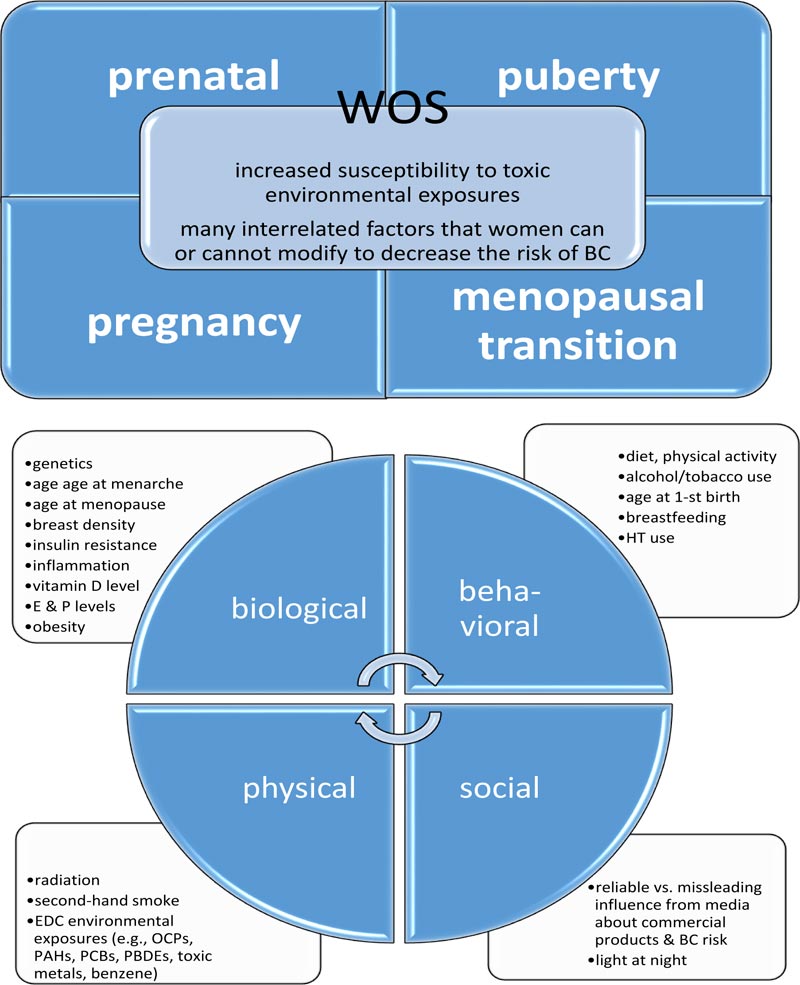 Introduction:
It has been observed that many toxic environmental agents increase risk, accelerate development, or deteriorate the course of breast cancer (BC). In particular, endocrine-disrupting chemicals (EDC) are harmful to endocrine receptor actions and signaling in the breast tissue.
Usually, there is a long interval of time between the exposure to EDC and BC incidence, and this often represents a serious obstacle for effective BC prophylaxis. Notably, during certain periods of a woman's life cycle, the BC risk is particularly elevated due to increased susceptibility to some EDC. These windows of susceptibility (WOS) include prenatal, puberty, pregnancy, and menopausal transition stages of a female's life course.
Four WOS have been considered as the most vulnerable periods for BC since the mammary gland undergoes the main anatomical and physiological transformations at those intervals. This means that during specific WOS, the EDC from the environment can have the most dangerous impact on BC risk and possible BC development later in a woman's life. However, most clinical BC studies related to toxic environmental exposures have not been connected to the specific WOS.
Therefore, the goal of this article is to briefly describe some important research results, focused on the links between EDC and BC, within four critical WOS. In addition, this mini-review outlines some useful biomarkers for further research and prophylaxis of BC and also for both the research community and the medical professionals.
Conclusion:
To bridge the gap in BC prevention, it is essential to recognize the links between EDC and BC within the critical WOS. Moreover, an integrative model of BC research, applying intermediate biomarkers, is necessary to determine the mechanisms of action of various EDC during critical periods in a woman's lifespan. Hopefully, this will lead to progress in BC prevention.
---
June 10, 2021