Aims and Scope
Andréia G.O. Fernandes, Leonardo N. Santos, Gabriela P. Pinheiro, Diego da Silva Vasconcellos, Sérgio Telles de Oliva, Bruno J.D. Fernandes, Ricardo D. Couto
---
Objective:
To review the literature on the use of urinary cotinine as a biological marker of cigarette smoke exposure.
Methods:
Narrative review of original and review articles on the topic of interest, published in Portuguese or English by June 2018, and selected in the following online databases: PubMed and Virtual Health Library (VHL).
Results:
Urinary cotinine is usually the recommended biomarker to estimate exposure to cigarette smoke, and can be used alone or, preferably, in association with questionnaires. Different analytical techniques can be used to quantify urinary cotinine and are differently performed because of urine sample interfering factors.
Conclusion:
The precise classification of smoking status is essential. It is advisable to use objective measurements regarding smoking habits since self-reported smoking may not always represent the true smoking status of the individual, particularly in groups that are more vulnerable to omitting the information of questionnaries, in addition, it has possible biases of memory. The accurate assessment of smoking is crucial to improve clinical management and counseling for different diseases as well as the establishment of preventive strategies. So, the use of urinary cotinine as a biomarker of cigarette smoke exposure seems to be a suitable assay to distinguish non-smokers from passive and active smokers.
---
July 31, 2020
V. Mauro, D. Chevallier, J. Gilleron, N. Defamie, D. Carette, J.M. Gasc, D. Segretain , G. Pointis
---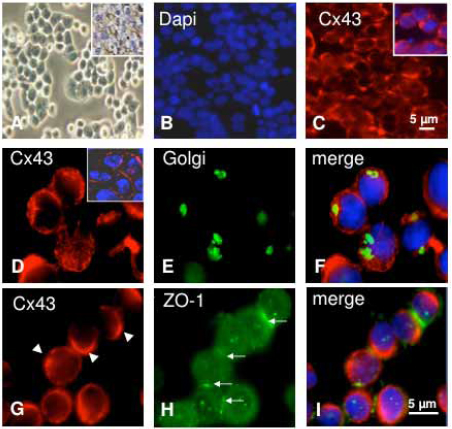 In the present study Cx43 mRNA and protein were analyzed in germ cells of men with normal spermatogenesis and in human testicular seminoma. In normal testis Cx43 mRNAs were basally located within seminiferous tubules and expressed in the most basally located germ cells (spermatogonia, early spermatocytes, and pachytene spermatocytes) and in Sertoli cells. Immunofluorescence analysis showed that Cx43 signal was mainly located in the basal compartment of seminiferous tubules and was stage-dependent. Cx43 mRNAs were also detected in human testicular seminoma. Transcripts were present within seminoma cells identified by PLAP staining. However, Cx43 protein exhibited an intracytoplasmic accumulation, within an intracellular compartment distinct from the Golgi apparatus and was undetectable at the plasma membrane level, suggesting post-translational rather than transcriptional abnormalities. This aberrant intracytoplasmic accumulation of Cx43 is due neither to a dysfunction of the protein trafficking machinery nor to a specific alteration of its major protein partner, ZO-1, since the tight junction associated protein was detected at the plasma membrane level and did not colocalize with Cx43.
---
December 5, 2008