Aims and Scope
Tathiane Tanajura da Silva, Roque A. Junior, Daniel Lima de Moura, Júlio C. A. Santos, Álvaro L. Müller da Fonseca, Ricardo D. Couto, Fernanda W. M. Lima
---
Background:
Although atherosclerosis is a major cause of mortality, little is known about the role of inflammation, and mediators of disease progression. In this study, serum levels of inflammatory markers were evaluated in stable atherosclerotic disease patients before and by 24 hours after coronary angioplasty and stenting.
Methods:
The study included 12 patients (eight women and four men) who underwent coronary angioplasty to implant a conventional wire-mesh cobalt-chromium stent. Changes in the lipid profile were investigated. The pro-inflammatory cytokines tumor necrosis factor-α (TNF-α) and interleukine-17 (IL-17) were measured by enzyme immunoassays. All patients received statins and reported being hypercholesterolemic, hypertensive, and sedentary.
Results:
TNF-α and IL-17 levels did not differ significantly before and after angioplasty. The total leukocyte count had a significant reduction when compared before (7.6; 6.5-10.6cells/µL) and after (6.78;5.2-8.2cells/µL) angioplasty, although, on the other hand, the CRP levels increased from 2.5 (0.0-14.75) to 8.0 (0.75-31mg/dL) (p<0.05). Patients had significantly higher average total cholesterol before (160; 148-193) then after (155; 122-172mg/dL) (p=0.0038), as well as HDL-cholesterol, before (41; 30-49) and after (33; 32-42mg/dL) (p=0.0192), and apolipoprotein-A levels, before (159;133-169) and after, (143; 115-150 mg/dL) (p<0.05) procedure. On the other hand, no significant differences were noticed on LDL-cholesterol, triglycerides, and apolipoprotein-B concentrations.
Conclusion:
The angioplasty procedure with stent implantation influenced lipoprotein metabolism specifically that of HDL, by leading to HDL-c and apolipoprotein-A reductions, as well as total leukocyte count, and CRP elevations by 24 hours after procedure.
---
February 18, 2020
V. Mauro, D. Chevallier, J. Gilleron, N. Defamie, D. Carette, J.M. Gasc, D. Segretain , G. Pointis
---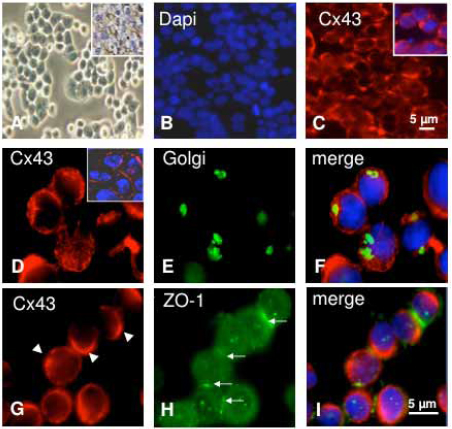 In the present study Cx43 mRNA and protein were analyzed in germ cells of men with normal spermatogenesis and in human testicular seminoma. In normal testis Cx43 mRNAs were basally located within seminiferous tubules and expressed in the most basally located germ cells (spermatogonia, early spermatocytes, and pachytene spermatocytes) and in Sertoli cells. Immunofluorescence analysis showed that Cx43 signal was mainly located in the basal compartment of seminiferous tubules and was stage-dependent. Cx43 mRNAs were also detected in human testicular seminoma. Transcripts were present within seminoma cells identified by PLAP staining. However, Cx43 protein exhibited an intracytoplasmic accumulation, within an intracellular compartment distinct from the Golgi apparatus and was undetectable at the plasma membrane level, suggesting post-translational rather than transcriptional abnormalities. This aberrant intracytoplasmic accumulation of Cx43 is due neither to a dysfunction of the protein trafficking machinery nor to a specific alteration of its major protein partner, ZO-1, since the tight junction associated protein was detected at the plasma membrane level and did not colocalize with Cx43.
---
December 5, 2008